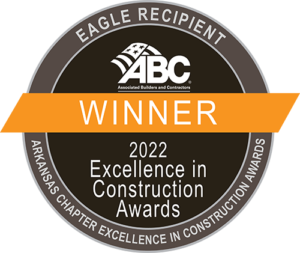 PEA RIDGE HIGH SCHOOL

Since its completion in 2020, Pea Ridge High School is a state-of-the-art educational facility that we had the pleasure of working on with C. R. Crawford as the general contractor. This project received the 2022 ABC Arkansas EIC Award because of its bright, open, and innovative design.
Pea Ridge, AR, now offers its community the newest advances in education with this 134,00 sq. ft. building dedicated to cultivating a rich learning environment. There are indoor and outdoor spaces, such as the quad and student union, for dining and studying as well as modern, thoughtfully designed classrooms, science labs, a band room, an art room, and a culinary room. The overall design by Lewis Architects Engineers and interior design by Harrison French and Associates Architects implements the collaborative and enlightened approach Pea Ridge School District wants to offer students when preparing them for the future.
We are proud to have had a hand in such an impactful project that will inspire countless bright ideas.